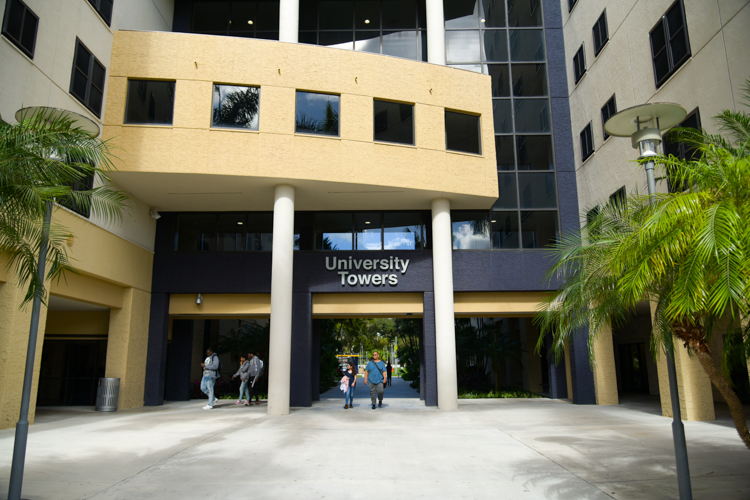 University Towers is an apartment building housing mostly upper-class students. It is home to 482 residents and 12 resident assistants. Students may choose to live in a Living & Learning Community focused on wellness.
Features
Shared or private bathroom
Full kitchen
Living rooms (2 and 4 bedroom units)
Laundry room on 1st floor
Full mattress (size 54 x 80 x 6)
Capacity
482
Type of Hall
Apartment Style
Room Types
2 Bedroom Private (1 per room)
4 Bedroom Private (1 per room)
Studio (1 per room) Limited availability
Room Dimensions
2 Bedroom Private (14' x 9')
4 Bedroom Private (11'3" x 8'10")
Studio (19'1" x 11'1")
Number of Residents
Varies per unit
Meal Plan
Meal Plan Options
Laundry Facility
First Floor
Lounges
On Alternate Floors
Kitchens
Full Kitchen* In Unit
Services
Wifi
Air Conditioned
Yes
Furnishings
Per Resident: Full mattress, closet, desk, chair, dresser, bookshelf 
Per Unit: Full kitchen*, Full bathrooms**, Living Room***
Furnishing Dimensions
Dresser: 36 x 24 x 29
Desk: 42 x 24 x 29
Bookshelf: 24 x 133 x 29
Bed Size
Full mattress (size 54 x 80 x 6)
Full Kitchen* - stove, common sink, cabinets, refrigerator, table, chairs
Full Bathroom** - bath sink, mirror, toilet, shower, shower curtains 
Note: 4 Bedroom Private (2 Full Bathrooms)
Living Room*** - Dining table, chairs
Dimensions may vary.